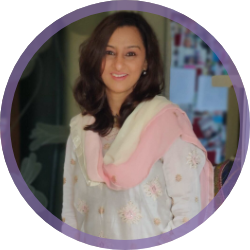 Dr Gayatri Rao
---
Dr. Gayatri Rao (B.H.M.S.) is dedicated to helping anyone find better health through homeopathy. She offers a holistic approach to better health using a combination of innovative Homeopathy and nutritional guidance. Her focus is on treatment for children with special needs and skin ailments. She is available for virtual consultations via zoom/skype/whatsapp. She also helps families create a do-it-yourself homeopathic kit for treating common ailments at home.
Dr. Rao completed her BHMS from Mumbai University in 2003 and has 17 years of experience as a Homeopathic professional she is a Bach flower therapist as well. She has worked with renowned Homeopathic practitioners such as Dr. Kasad, Dr. Monica Buch, and Dr. Zenobia Colabawala in the past.
Testimonials
---
Worldwide Client Testimonials
Dr. Gayatri Rao had help me to control my sinuses and chronic blocked nose. I met her only once at which time she made a detailed note of my history including the psychological mind set. Subsequently the medication was sent by her as and when the dosage was finished after inquiring about the condition. Her medication has helped me and I wish her the very best.
Dr. Gayatri's biggest strengths in her work is her sensitive, keen and accurate perception of the client. Dr Gayatri is very present, cooperative, and always there. She inspires positivity in her clients and assures them of their wellness no matter what. These are rare and precious qualities that I personally find have been so helpful in the therapeutic process and as well in diagnoses. She is always available and attentive and her remedies ALWAYS work. She has a very good understanding of the study of homeopathy and its remedies as well as understanding the principles of health and healing of the human system. I'm fortunate to have Dr Gayatri as my homeopath and also for my daughter.
Gayatri takes a huge amount of effort to really understand the individuals unique constitution and health related issues – from both physical and mental as well as hereditary standpoints. She not only provides very effective homeopathic and natural treatment but also stays in touch proactively and tracks the patients recovery. Her personal attention and care are rare and refreshing. Everyone who interacts with her is always blown away by her passion, commitment and genuine concern
I first got in touch with Dr Rao because I wanted an option to allopathic medicine which would be more holistic in its approach and less invasive. I was very impressed with the detailed case history she took of my son , Dhruv – right down to birth history, food habits, nursing, tantrums . This in itself was refreshing compared to physicians who simply look at the proximate cause and prescribe. She also saw his detailed medical file and did away with many common ointments for cuts and scrapes which are steroid based and replaced with homeopathic ones.
I started consulting Dr Gayatri for my 20 months old daughter when she was down with cold and cough and which was recurrent. Apart from her prescriptions, her nity bity tips on the day to day diet brought positive change in my daughter's health. One incident I would like to share when Nyra got fever with diarrhoea and her treatment gave immediate relief which was commendable. She has always been approachable to every health issue wholeheartedly.I am glad that my daughter is under her consultancy.
I have been constantly suffering from some of the other throat related problems for about 12 months. I treated them with various kinds of allopathic approach… But they kept reappearing time and again. At a friend's recommendation I approached Gayatri. Her approach is homeopathic. ie thorough interviews upfront. But her medication has a good balance of immediate to long term solutions. I have had much more relief than anything I have had earlier and I strongly recommend to everyone. Her convenience is an additional asset… I can talk on the phone and get the medicines picked up. Very happy with the results.
I am writing to express my gratitude towards the treatment I have received from Dr. GAYATRI RAO in several situations. Most memorable and recent being while i was midway towards my pregnancy and was severely hit with a rough case of viral flu. Her apt medication and calm approach towards understanding my case especially through my pregnancy left me feeling absolutely fit and fine in no time. So thanks to her I did not have to seek any kind of heavy antibiotics at such a sensitive time. All I want to say is a big thank you to you for helping me get a quick cure always.
I have been taking treatment from Dr Gayatri for Thyroid . I have found it very effective . She has the ability to be intuitive and spends a lot of time in understanding the person hence there is holistic improvement . I am very happy with the improvements and feeling of overall well being.
We believe that there are certain health indications that are best treated by homeopathy for example eye styes and allergies. We heard about Dr Rao from a friend and decided to take her consultation for allergy and adenoid related issues that our 6 year old daughter was having. Dr. Rao's line of treatment has been truly beneficial. She is approachable, compassionate and is always willing to help. We strongly recommend her to anyone dealing with similar health issues.
0

+

Years of Experince
0

+

Happy Patients